ESL EFL Teaching Ideas, Tips and Articles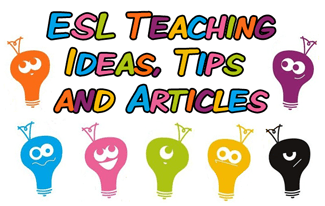 We believe in supporting English teachers not only with enjoyable teaching activities, worksheets and games, but also with useful teaching ideas, tips and advice. In this section, we provide you with inspirational teaching ideas, indepth articles and useful tips to enhance your teaching skills and help you understand more about teaching English in the ESL/EFL environment. Whether you are a new teacher just starting out in your career, or you just need help with a certain aspect of teaching English. This section helps you to find what you are looking for.
As teachers we should never stop learning, so we have also included articles written by academics in the field of ESL/EFL to help you understand more about the process of learning English from a student's perspective, and how we as teachers can sharpen our skills to become more effective in how we teach English in the classroom.
We cover a wide variety of teaching topics, which should prove useful in establishing a pleasant and productive learning environment for your students. There are articles covering practical advice on classroom management, which is often an ongoing concern for most teachers. We also deal with topics like cultural awareness, what to do and cover on the first day of class, ideas for starting lessons, how to introduce vocabulary and deal with vocabulary queries, procedures for running different types of dictations, how to teach large, mixed-ability, and small classes, etc. The advice we offer comes from seasoned ESL and EFL professionals who have a wealth of experience in the field of teaching English. We hope you find this information useful and can incorporate what you learn here into your classes successfully.
We are always looking for people who want to share their teaching ideas, articles and tips with our users. If you have any teaching ideas or articles that you would like to post on the site, please contact us.
The teaching ideas, tips and articles are listed below:
Top Tips for ESL Classroom Management
On this page, you will find top tips and advice on ESL classroom management. These tried and tested management techniques help to create a positive learning environment for your students and help you to effectively control your classes.
Here you will find practical advice on how to ask concept questions to make sure your students understand the language you are teaching them.
This article gives ESL/EFL teachers advice on being culturally aware. The article explores ways teachers can create a sense of understanding of their students' beliefs, attitudes and values. The article also discusses how to avoid culturally sensitive situations in class.
How to Practice and Develop Spoken English Skills
This article gives students useful ideas to help them practice and develop their spoken English skills. It also gives teachers ideas on ways to improve their students speaking ability.
In this section, you will find instructions on how to use different kinds of ESL/EFL dictation in class. There are seven types of dictation in all. Each one comes with a clear set of instructions and a free PDF copy of the instructions can be found at the end of the article.
Here you will find techniques to help you elicit information from your students. These techniques save you time and help students get involved in the lesson. The article covers strategies for eliciting vocabulary, grammar, ideas and background knowledge.
This page helps you with ESL lesson planning and explores the process of planning an effective lesson. The article also discusses the factors you need to consider when planning a lesson, how to adapt activities and exercises, and how to review a lesson once it has taken place.
This article provides tips and ideas for learning English Idioms. This article should prove useful to teachers and students alike who are teaching or studying idioms, informal colloquial expressions and slang.
The Importance of Listening Comprehension
Here is an article on the importance of listening comprehension for learners of English. The article explores how learners develop their listening comprehension skills and how this affects their spoken skills.
Ways to Master English Vocabulary
On this page, you can find ideas on ways for learners to improve their English vocabulary.
Patterns of Communication in the ESL/EFL Classroom
This article discusses the different patterns of communication an ESL/EFL teacher can use to change the dynamics of their class. The article explains how these patterns improve class atmosphere and help to shape the way students use language and participate.
Personalizing Activities for ESL/EFL Students
This page provides you will information about personalizing ESL/EFL activities for your students. The article discusses the benefits of adapting materials and how personalizing activities helps students learn English more effectively.
Difficulties and Problems in Learning English
This article talks about the problems and difficulties students face when learning English and how these problems can be resolved.
Here you can find information about how students can learn English through reading. The article gives practical advice to learners to help them improve their reading skills.
Teaching Large ESL/EFL Classes
This article gives ideas and tips for teaching large ESL/EFL classes. There is also advice on how to manage large class sizes and organize the students.
Teaching Mixed-Ability ESL/EFL Classes
Here is an article about the challenges that teachers face when teaching a mixed-ability ESL/EFL class. The article also provides some guidelines on the best way to teach effectively in a mixed-ability class environment.
Teaching Small ESL/EFL Classes
On this page, you will find useful ideas and advice for teaching small ESL/EFL classes. The article also covers common problems teachers have when teaching this type of class and how to overcome these issues.
Ten Ways to Begin an ESL/EFL Lesson
Here is an interesting article on the different ways you can begin your ESL/EFL lesson. The article covers ten techniques for starting a class with an overview for each one.
The First Day of ESL/EFL Class
This popular article gives you useful ideas and tips on what you should do and cover in the first lesson to help you and your students get the most out of the first day of class. The article covers how to make a good first impression and introduce yourself. The article also explores what games and activities to use and gives guidance on explaining class rules and the course, using names and phone use.
Using Correction in ESL/EFL Class
This article discusses the various techniques for using correction in ESL/EFL class. The article covers three types of correcting: self-correcting, student to student correction, and teacher to student correction.
This section talks about how teachers can incorporate music into their classes. The article discusses different ideas, methods, and benefits for using music to help your students learn English.
Using Song Gap Fills with ESL/EFL Students
Here you will find an overview and instructions for using song gap fills in class.
This article gives teachers some productive ideas on how to introduce and explain new vocabulary to students and how to get students to understand new vocabulary.