ESL Essential Games eBook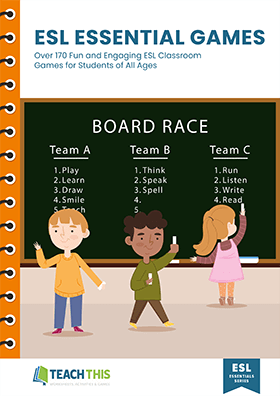 Contains over 170 Dynamic and Fun-Filled ESL Classroom Games for Students of All Ages and Levels
By TeachThis Limited
Are you looking for a go-to source for classroom games, warmers, fillers and last-minute activities?
Are you in need of engaging and effective ESL classroom games that take no time to set up and play?
Look no further! Introducing the ESL Essential Games eBook - Your Ultimate Classroom Companion.
Packed with over 170 dynamic and fun-filled classroom games for teachers to use in class. Whether you teach young learners, teenagers, or adults, you will find games that perfectly match your students' needs and interests.
Why Choose the ESL Essential Games eBook?
Easy to Use: Our games are straightforward and require minimal or no preparation, making them perfect for last-minute replacement activities, fillers, coolers, or warmers. With this eBook, you'll always have a vibrant and engaging lesson at your fingertips.
Versatile: Our games cover a wide range of topics and skills, such as vocabulary, grammar, listening, pronunciation, and speaking. You can use these games to introduce and practice vocabulary, language points or grammar concepts, review and consolidate previous learning, or enhance and extend your students' abilities.
Flexible Integration: Whether you need a dynamic warmer, a mid-lesson refresher, or a memorable lesson finisher, our games fit the bill for all scenarios. You can also modify them to suit different levels, ages, and preferences.
What sets our eBook apart?
Our games offer an engaging and interactive way for students to connect words and grammar, accelerating their language learning journey. They build confidence, sharpen focus, boost participation, and energize your classroom. What sets us apart is that these games have been developed by experienced ESL professionals and thoroughly tested in real classrooms.
Don't miss this chance to take your ESL teaching to the next level. Our "ESL Essential Games eBook" is a valuable resource that will help you create enjoyable, interactive, and effective lessons for your students.
Get your copy now and discover the power of games in ESL teaching. Say goodbye to boring, repetitive classes and hello to a world of fun, excitement, and learning!
Author: TeachThis Limited
Price: $17.99 USD
Format: PDF
Publication Date: January, 2023
Edition: 3rd
Series: ESL Essentials
Print Length: 203 Pages
Language: English
How will I receive the eBook?
After completing your purchase, log into the site with the username and password you created. You can access the download link to the eBook from your profile under 'My Downloads'. The eBook comes in PDF format only with access to the download link for one year.
If you wish to buy additional eBooks in the ESL Essentials series, simply log out of the website and order again. On the sign-up page, log in and complete the purchase.