Pre-intermediate (A2) Functional Language Teaching Resources eBook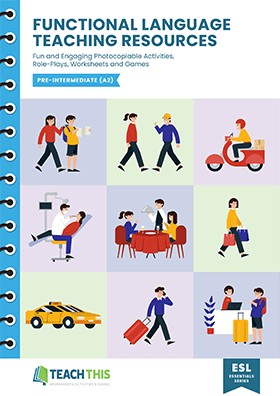 Over 100 Communicative and Fun ESL Activities, Role-Plays, Worksheets and Games for Real-Life Language Use
By TeachThis Limited
Do you want to help your pre-intermediate students communicate confidently and effectively in various everyday situations?
Do you want to make your lessons more fun and relevant to your students' real-life experiences?
If you do, then you need the "Pre-intermediate Functional Language Teaching Resources eBook". This eBook is your ultimate resource for functional and task-based materials that help your students master the language they need to succeed in an English-speaking environment.
The eBook provides you with a wealth of resources that will improve your teaching skills and elevate your students' overall learning outcomes. It also helps you save valuable time and effort in preparing your lessons.
What is Functional Language Teaching?
Functional language teaching is an approach that teaches language as a tool for communication, rather than as a system of rules or structures. It helps students use language for specific purposes and functions, such as making suggestions, being polite, apologizing, and so on. It also helps students use language in realistic and meaningful situations, such as shopping, ordering food and drink, or booking a hotel.
This eBook
The eBook provides a comprehensive collection of over 100 fun and practical ESL classroom activities, role-plays, worksheets and games designed to help your students practice the language they need for real-life communication.
The materials in this eBook cover a range of functional language topics that pre-intermediate students need for their daily lives. These include topics like agreeing and disagreeing, asking permission, going to the doctor, writing emails, giving advice, directions, and opinions, greetings and introductions, ordering food and drink, making requests, shopping, and many more.
Inside this eBook, you'll find a variety of controlled, freer and communicative speaking activities and authentic role-plays as well as productive group and pair-work games. You'll also find useful board games and a variety of detailed worksheets that develop students' understanding of everyday expressions and functional language use.
Every resource in this eBook comes with detailed, easy-to-follow instructions, teacher's notes, and answer keys. You can use these materials to create a full lesson, introduce or reinforce functional language expressions, or provide additional practice or revision. These resources can be easily adapted and readily included in any lesson plan.
These resources have been created and tested by experienced and qualified ESL professionals who have used functional language teaching successfully in various settings and contexts, adhering to the highest standards in language education. This eBook is brought to you by Teach-This.com, a leading website for ESL materials that thousands of teachers worldwide trust and use. Our resources have been downloaded and applied in the classroom thousands of times. The eBook comes in a convenient, printable A4 PDF format, complete with interactive menus that make navigation easy.
Why buy this eBook?
• Get instant access to targeted and highly effective functional language resources.
• Empower your pre-intermediate students to communicate effectively in everyday life.
• Save valuable time and energy with ready-made materials that come with full teacher's notes.
• Make your lesson planning and preparation easier with user-friendly resources.
• Increase student participation and engagement with fun and communicative lessons.
• Enjoy the best value for money with reliable and trusted teaching resources.
• Enhance your teaching with comprehensive functional language content.
Don't wait. Buy your copy today and discover the power of functional language teaching!
Author: TeachThis Limited
Price: $17.99 USD
Format: PDF
Publication Date: February, 2023
Edition: 1st
Series: ESL Essentials
Print Length: 283 Pages
Language: English
How will I receive the eBook?
After completing your purchase, log into the site with the username and password you created. You can access the download link to the eBook from your profile under 'My Downloads'. The eBook comes in PDF format only with access to the download link for one year.
If you wish to buy additional eBooks in the ESL Essentials series, simply log out of the website and order again. On the sign-up page, log in and complete the purchase.