Pre-intermediate (A2) English Grammar Teaching Resources eBook
Packed with over 120 Fun and Effective ESL Activities, Games, and Worksheets for Developing English Grammar Skills
By TeachThis Limited
Are you searching for fun and interesting approaches to English grammar instruction?
Are you looking for ways to make your grammar lessons more exciting and effective?
Whether you're just starting out in the world of English teaching, an experienced educator seeking fresh activities, or a busy teacher aiming to streamline your lesson preparation, this eBook is your ultimate solution.
Packed with captivating grammar activities, games, and worksheets, this eBook is designed to ignite your students' enthusiasm for learning. Say goodbye to the mundane and hello to engaging lessons that leave a lasting impact.
The "Pre-intermediate English Grammar Teaching Resources eBook" features an extensive collection of over 120 fun and effective ESL classroom games, activities, and worksheets. These resources are designed to help your students master the core principles of English grammar at the pre-intermediate level.
The materials focus on essential grammar concepts pre-intermediate students need to comprehend and master at this stage. These include key grammar points like the basic perfect tenses, conditionals, imperatives, and comparatives as well as the reinforcement of past, present and future simple tenses and other commonly taught grammar subjects such as too and enough and used to.
Within the pages of this eBook, you'll discover a wide range of productive speaking activities that offer both structured and open-ended practice along with fun group and pair-work games. Additionally, you'll find board games for interactive learning and a variety of useful worksheets that enhance students' understanding of the form and function of grammar.
With each resource, we provide clear, easy-to-follow instructions, teacher's notes, and answer keys. You can use these materials to construct comprehensive lessons, introduce or reinforce specific grammar concepts, or provide extra practice or review opportunities. These user-friendly resources seamlessly integrate into any lesson plan, making them a valuable addition to your teaching toolkit.
Rest assured, these resources have been meticulously crafted by the skilled team of content creators at Teach-This.com, a trusted hub for ESL materials. Our resources are downloaded daily by thousands of satisfied teachers worldwide.
This eBook comes in a convenient, printable A4 PDF format that features interactive menus, ensuring effortless navigation.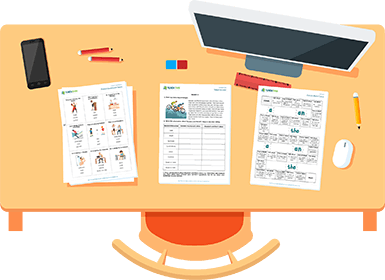 Why choose this eBook?
• Gain immediate access to grammar resources tailored to your students' proficiency level.
• Boost student motivation and participation in the classroom.
• Enhance learner satisfaction with engaging activities.
• Streamline your lesson planning and preparation process.
• Utilize proven grammar teaching materials.
• Get a cost-effective solution to transform your classes from dull to dynamic.
Don't miss out! Get your copy today and make a meaningful and lasting impact on your classes.
Author: TeachThis Limited
Price: $17.99 USD
Format: PDF
Publication Date: April, 2022
Edition: 1st
Series: ESL Essentials
Print Length: 341 Pages
Language: English
How will I receive the eBook?
After completing your purchase, log into the site with the username and password you created. You can access the download link to the eBook from your profile under 'My Downloads'. The eBook comes in PDF format only with access to the download link for one year.
If you wish to buy additional eBooks in the ESL Essentials series, simply log out of the website and order again. On the sign-up page, log in and complete the purchase.