Pre-intermediate (A2) Parts of Speech Teaching Resources eBook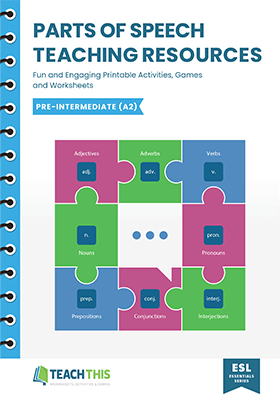 Packed with over 100 Engaging and Productive ESL Activities, Games, and Worksheets for Practicing Parts of Speech
By TeachThis Limited
Do you struggle to find captivating and effective ways to teach parts of speech to your pre-intermediate students?
Do you need high-quality materials that will help your students understand word meaning, word function, and word usage?
If you answered yes, your quest ends here with our "Pre-intermediate Parts of Speech Teaching Resources eBook". This eBook contains a wealth of parts of speech materials that will make your lessons more enjoyable and relevant. Whether you're new to English teaching, an experienced educator seeking fresh ideas, or a busy teacher aiming to simplify lesson preparation, this eBook will save you valuable time and energy by providing ready-made and impactful resources that you can use in your classroom.
The eBook features more than 100 engaging and productive ESL classroom activities, games, and worksheets designed to help your students master the essential aspects of various parts of speech.
This eBook covers the most critical parts of speech that pre-intermediate students need to enhance their comprehension and communication skills, such as adjectives, adverbs of frequency, conjunctions, modals of ability, prepositions of time, and subject-object pronouns, to name but a few.
Within the eBook, you'll find a diverse collection of controlled and freer practice speaking activities, as well as enjoyable pair and group-work games. Additionally, you'll have access to entertaining board games and comprehensive worksheets that facilitate your students in examining and practicing the forms and functions of different parts of speech.
Each resource in this eBook includes clear, user-friendly instructions, teacher's notes, and answer keys, ensuring that your classes run smoothly. You can use these materials to design a comprehensive lesson, introduce or reinforce specific language or grammar concepts, or provide additional opportunities for practice and review. These adaptable resources seamlessly integrate into any lesson plan, making them a valuable addition to your teaching toolkit.
This eBook is brought to you by Teach-This.com, a leading resources website for ESL materials that has earned the trust of thousands of teachers worldwide. Our team of expert materials developers has carefully crafted these resources to ensure quality and effectiveness. The eBook comes in a convenient, print-ready A4 PDF format with interactive menus, ensuring hassle-free navigation.
Why choose this eBook?
• Gain immediate access to level-appropriate and effective parts of speech resources.
• Help your pre-intermediate students master parts of speech with ease and confidence.
• Save valuable time and energy with ready-made materials complete with full teacher's notes.
• Enjoy the best value for money with proven and trusted teaching resources.
• Boost student participation and engagement with dynamic and interactive lessons.
• Enhance your teaching materials with comprehensive and well-structured parts of speech content.
• Streamline your lesson planning and preparation process with user-friendly resources.
Don't miss this opportunity! Buy your copy now and start teaching parts of speech with confidence and expertise!
Author: TeachThis Limited
Price: $17.99 USD
Format: PDF
Publication Date: August, 2022
Edition: 1st
Series: ESL Essentials
Print Length: 295 Pages
Language: English
How will I receive the eBook?
After completing your purchase, log into the site with the username and password you created. You can access the download link to the eBook from your profile under 'My Downloads'. The eBook comes in PDF format only with access to the download link for one year.
If you wish to buy additional eBooks in the ESL Essentials series, simply log out of the website and order again. On the sign-up page, log in and complete the purchase.