Pre-intermediate (A2) Topic-Based Vocabulary Teaching Resources eBook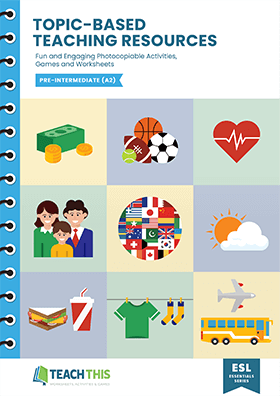 Contains over 100 Engaging and Impactful ESL Activities, Games and Worksheets for Learning and Practicing Topic-Based Vocabulary
By TeachThis Limited
Do you want to help your pre-intermediate students expand their vocabulary on assorted topics that are relevant and interesting?
Do you want to save time and effort in planning and preparing, while still delivering quality and productive lessons?
Do you want to have a variety of games, activities, and worksheets that make vocabulary learning fun and meaningful?
If you do, then you need the "Pre-intermediare Topic-Based Vocabulary Teaching Resources eBook". Whether you are a new or experienced teacher, an educator managing a challenging workload, or an instructor looking for fresh and exciting resources, this eBook gives you access to an extensive collection of materials that will help your students expand their English vocabulary and have fun at the same time.
This eBook provides a hand-picked selection of more than 100 engaging and effective ESL classroom activities, games and worksheets. These resources help your pre-intermediate students learn and practice essential vocabulary for a wide variety of topics. Some of the topics include cities, towns, clothes, countries, nationalities, hobbies, education, family, food, jobs, transport, parts of the body, and weather, to name but a few.
The eBook is filled with an array of rewarding controlled and freer practice speaking activities as well as enjoyable group and pair-work games. Additionally, you'll find board games that make learning a more social and fulfilling process and detailed worksheets that help gauge your students' progress.
Each resource in this eBook comes with complete, easy-to-use instructions, teacher's notes, and answer keys. You can easily combine these materials with your lessons, use them to introduce or reinforce target vocabulary, or provide valuable practice and revision.
These materials have been created by an experienced materials development team at Teach-This.com. All of our team are former teachers who understand the challenges ESL teachers regularly face and our resources have been made to help mitigate these. Teach-This.com is a trusted ESL resources website, that teachers depend on daily. Therefore, you can rest assured that our materials work. This eBook comes in a convenient and printable A4 PDF format with interactive menus, making navigation a breeze.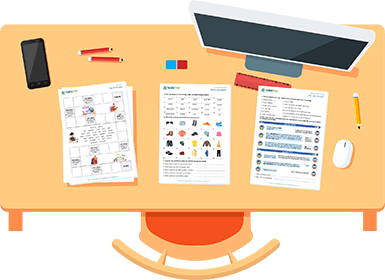 Why choose this eBook?
• Gain instant access to level-appropriate and effective topic-based vocabulary resources.
• Help your pre-intermediate students master essential pre-intermediate vocabulary with ease and confidence.
• Get an extensive collection of materials that help make vocabulary learning engaging and impactful.
• Streamline your lesson planning and preparation process.
• Get value for money with proven and tested vocabulary resources.
• Boost student participation and engagement with dynamic and fun lessons.
Don't miss out! Get your copy today and take your students' vocabulary skills to the next level!
Author: TeachThis Limited
Price: $17.99 USD
Format: PDF
Publication Date: September, 2023
Edition: 1st
Series: ESL Essentials
Print Length: 300 Pages
Language: English
How will I receive the eBook?
After completing your purchase, log into the site with the username and password you created. You can access the download link to the eBook from your profile under 'My Downloads'. The eBook comes in PDF format only with access to the download link for one year.
If you wish to buy additional eBooks in the ESL Essentials series, simply log out of the website and order again. On the sign-up page, log in and complete the purchase.