Intermediate (B1) Topic-Based Vocabulary Teaching Resources eBook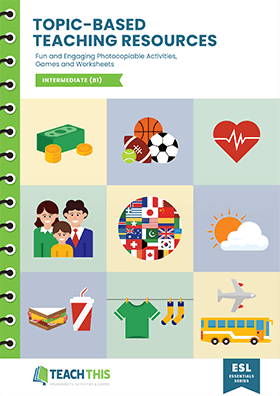 Packed with over 100 Proven and Relevant ESL Activities, Games and Worksheets for Mastering Topic-Based Vocabulary
By TeachThis Limited
Do you want to help your intermediate students learn new words on various topics in ways that are meaningful and engaging?
Are you looking to reduce the time and energy you spend on planning and preparing, while still making your lessons effective and memorable?
Would you like to have a diverse collection of resources that make vocabulary learning relevant and entertaining?
If you answered yes, then you need our "Intermediate Topic-Based Vocabulary Teaching Resources eBook". This eBook is the ultimate solution for busy and dedicated ESL teachers who want to deliver high-quality lessons that boost their students' vocabulary skills.
This eBook contains over 100 of our most popular ESL classroom activities, games and worksheets that are designed to make learning vocabulary fun and informative.
Inside this eBook, you'll find:
• A range of productive controlled, freer and communicative speaking activities that help intermediate students practice and use the target vocabulary in real-life situations.
• A variety of fun group and pair-work games that add a social dimension to learning and reinforce vocabulary through repetition and interaction.
• A selection of board games that challenge students to recall and apply the vocabulary in a competitive and enjoyable way.
• An array of comprehensive worksheets that help students learn, review and consolidate the topic-based vocabulary through reading, writing, listening and speaking exercises.
You'll also find materials that cover a wide range of vocabulary topics for intermediate students, such as computers and smartphones, cultural celebrations, going out and entertainment, health and fitness, jobs and the workplace, music, seasons, space, the natural world, TV and film, and many more.
We provide clear and easy-to-follow instructions, teacher's notes and answer keys with each resource. You can use these resources to design, create, or supplement a complete lesson, introduce or review target vocabulary, or provide extra practice or revision. These materials are highly flexible and can be easily integrated into any lesson plan, ensuring convenience and versatility for your teaching needs.
These resources are developed by the experienced team of content creators at Teach-This.com, who have decades of collective classroom experience. Our resources have been downloaded and used in the classroom thousands of times by ESL teachers worldwide. Join the thousands who trust our materials every day to make their lessons dynamic and engaging. The eBook comes in a convenient, printable A4 PDF format with interactive menus, ensuring hassle-free navigation.
Why buy this eBook?
• You'll get access to a wide range of topic-based vocabulary resources that are suitable for your students' level and proven to work in the classroom.
• You'll turn vocabulary learning into a fun and rewarding experience for your students with engaging and productive lessons.
• You'll simplify your lesson planning and preparation with easy-to-follow and ready-to-use resources.
• You'll receive over 100 high-quality teaching resources that offer great value for money and save you time and energy.
• You'll help your students use English confidently and fluently in various contexts and situations.
Don't wait! Buy the "Intermediate Topic-Based Vocabulary Teaching Resources eBook" now and start improving your students' vocabulary skills in no time!
Author: TeachThis Limited
Price: $17.99 USD
Format: PDF
Publication Date: June, 2023
Edition: 1st
Series: ESL Essentials
Print Length: 315 Pages
Language: English
How will I receive the eBook?
After completing your purchase, log into the site with the username and password you created. You can access the download link to the eBook from your profile under 'My Downloads'. The eBook comes in PDF format only with access to the download link for one year.
If you wish to buy additional eBooks in the ESL Essentials series, simply log out of the website and order again. On the sign-up page, log in and complete the purchase.